Hair loss during the menopause
It's enough to make you tear your hair out – literally. More than half of all women are all too familiar with this symptom during and after the menopause. Their hair becomes thinner, more brittle, more fragile and starts falling out more often. Find out more about hair loss during the menopause and the best way you can deal with it.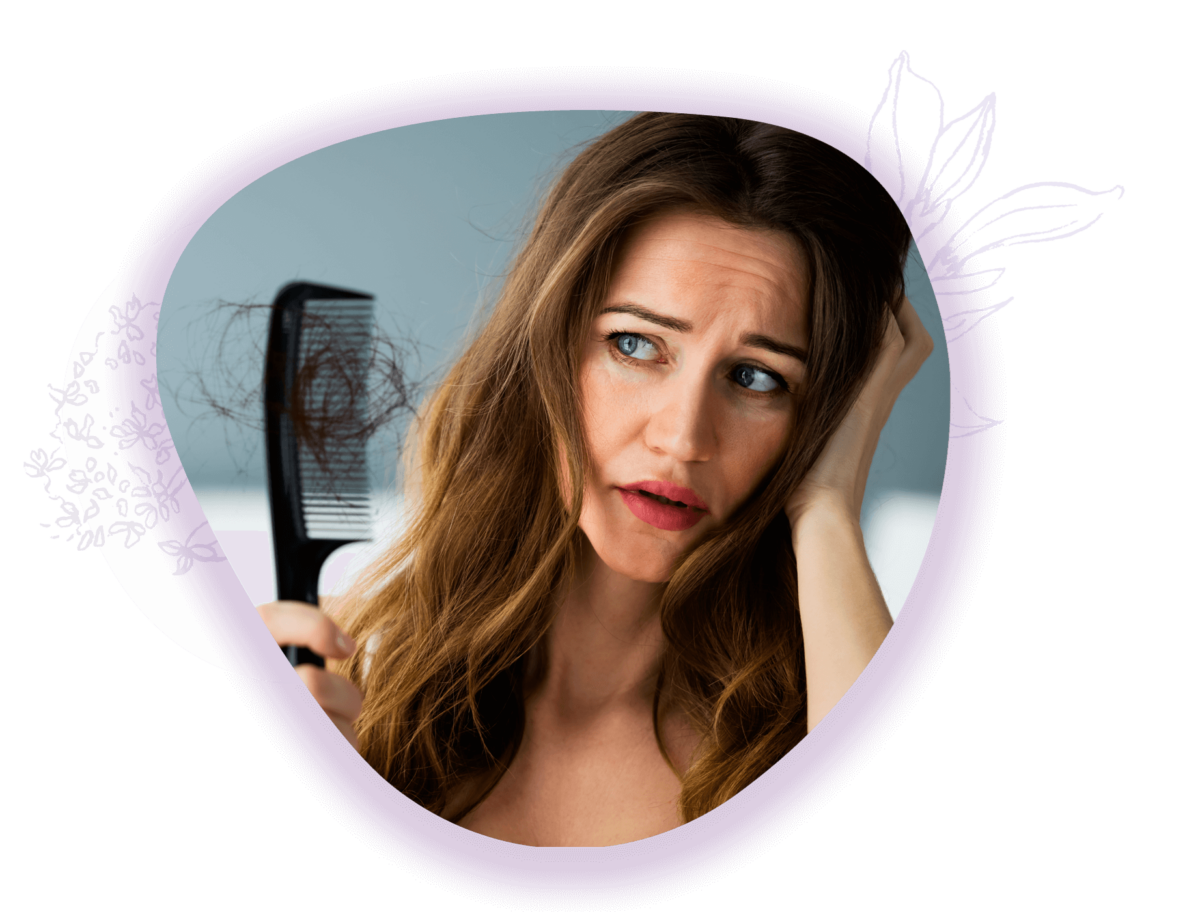 SYMPTOMS
Hair loss during the menopause – Signs and symptoms
A certain amount of hair loss is entirely normal, as hair has a set life cycle: Most hair is in the growth phase until it falls out at some point, to then be replaced by new hair. It is therefore normal for us to lose up to 100 hairs a day. However, if you start noticing more hair in your comb or brush, you may be experiencing hair loss. This can have various causes.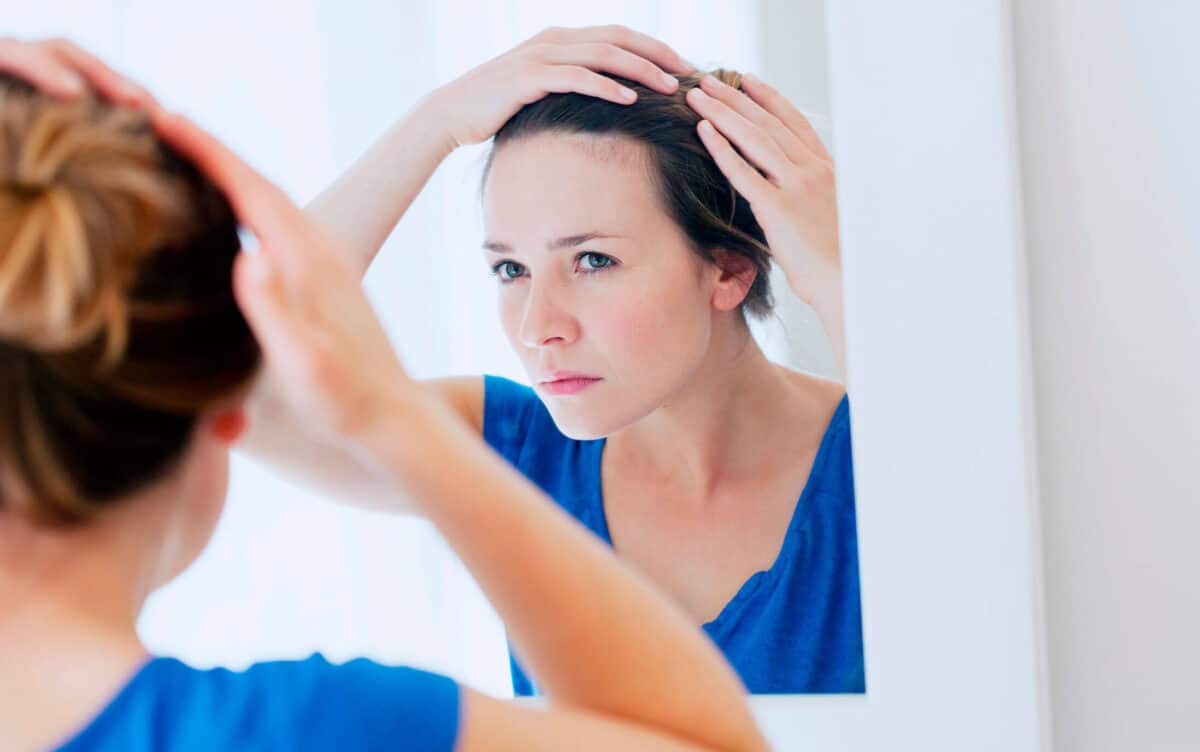 The most common forms of hair loss in women are:
Hormonal hair loss
This type of hair loss is highly widespread among women, with around 80% of all men with hair loss affected. In the medical world, it is therefore also referred to as androgenetic alopecia. It is caused by a genetic sensitivity of the hair roots to dihydrotestosterone (DHT), a metabolite of the male sex hormone, testosterone.
When women enter the menopause, the oestrogen level drops, causing the protective hormonal affect of the female sex hormone to be lost. As a result, women with a corresponding genetic disposition can also experience this type of hair loss, with hormones being responsible for almost half of all hair loss cases in women.
Diffuse hair loss
When hair becomes sparser to a greater or lesser extent, and possibly also thinner on an even basis across the whole head, there is usually a case of diffuse hair loss. This is not caused by hormones, but instead, a range of other reasons:
Physical and/or mental stress
Nutritional deficiency (e.g. iron or vitamin deficiency) due to one-sided diet or weight loss diets
Thyroid diseases (such as overactive thyroid/hyperthyroidism or underactive thyroid/hypothyroidism)
Chronic diseases or infections (e.g. flu)
Hormonal changes during pregnancy or when stopping the contraceptive pill
Stimulants such as smoking or alcohol
Various medication such as cholesterol-reducing medicines, blood thinners (e.g. Cumarin), acne medication (such as retinoids) or beta blockers
The good news is: Once you identify and remove the trigger, it is entirely possible for your hair to recover.
There are several signs, both direct and indirect that you may be experiencing hair loss:
Amount of hair lost
If you are constantly finding a significant amount of hair (that is, more than 100) in your hair brush or comb, then read on.
---
Type of hair loss
Women will notice hormonal hair loss in the parting region and with diffuse hair loss, the hair becomes thinner in general.
---
Distinct itchiness
If you are not getting enough nutrients, the scalp can begin to itch, signalling that the growth of the hair is beginning to suffer too.
---
Excessive sebum production
Under the increasing influence of testosterone, more sebum is formed, causing the hair follicles to become blocked and inflamed and as a result, impeding hair growth.
---
Fingernail changes
As fingernails have a similar nutrient requirement to hair, indications of possible deficiencies can usually also be seen there.
Hair loss during the menopause – Prevention and treatment
Full, healthy hair is a key element of our personality, and hair loss can therefore cause a lot of stress. With more than half of all otherwise healthy women dealing with hair loss during and after the menopause, it is worth preventing the possible causes and risks.
This means opting for a balanced diet with sufficient necessary nutrients for the hair. These are amino acids, iron, zinc, biotin, B-vitamins and vitamin C & E. You can find suitable dietary supplements for healthy hair in your local chemist or pharmacy to help.
Meanwhile, you should cut down on potential risk factors such as stress, smoking and alcohol as far as possible. According to current studies, being overweight with a BMI of over 25 is a statistically significant factor for female hair loss during and after the menopause.
If you are noticing increased hair loss, special anti-hair loss products for women such as the menoelle® HAIR med care set can help to reduce hair loss.
At any rate, you should keep an eye on your hair and if the usual recommendations are not providing any relief, seek medical advice to clarify the cause and possible medical measures you can take.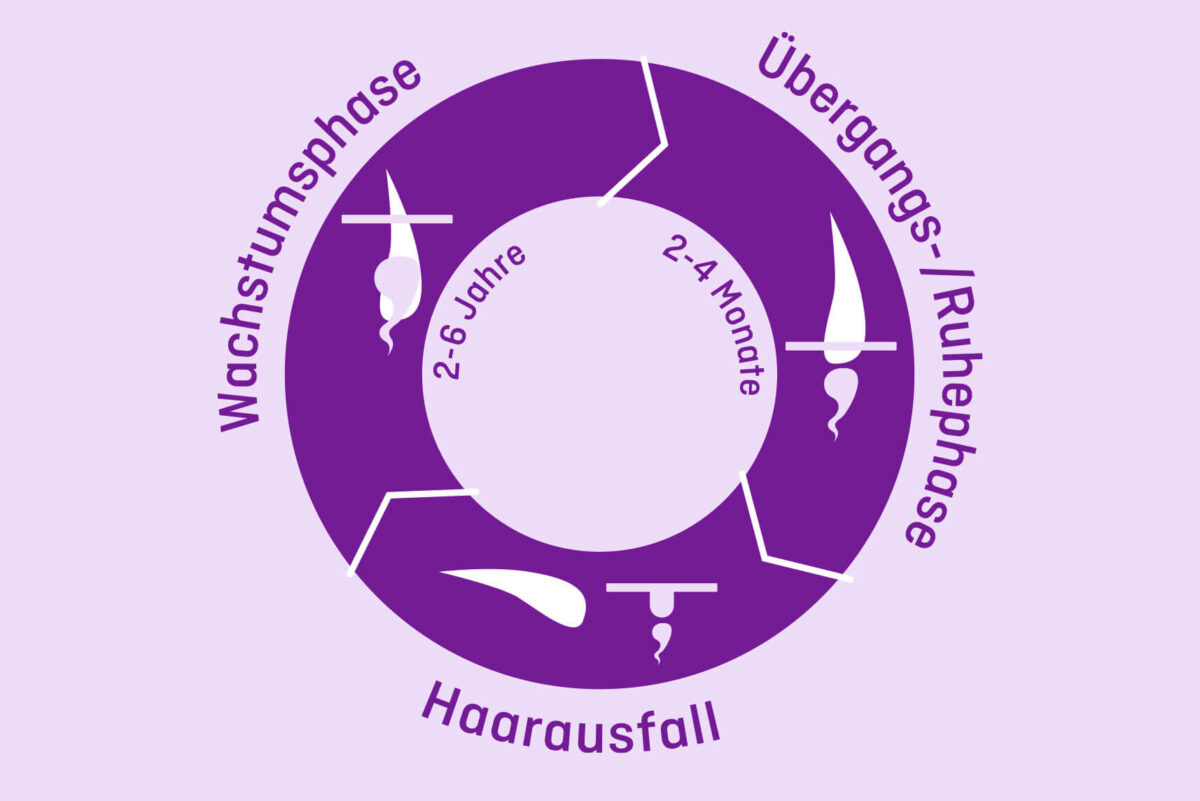 GOOD TO KNOW
Hair loss during the menopause
Healthy, full hair is a marker of attractiveness and vitality, especially for women. But the fact is, our hair changes over the years as part of the natural aging process, sometimes sooner, sometimes later. Not only does our hair become grey, but it begins to grow more slowly, and to become thinner, more brittle and prone to breakage.
We have around 100,000–150,000 hairs on our head, with the natural life cycle of one hair being around 7 years, as hairs are constantly being replaced.
Around 85% of hairs are in the growth phase, which we therefore see as our hair, and around 15% in the renewal phase, that is, the formation of new hairs.
Up to 100 hairs fall out every day, which is entirely normal. When this number is much greater, then we talk about hair loss.
More than half of all women are affected by hair loss during and after the menopause, with the symptom appearing in two predominant forms: Hormonal and diffuse hair loss.
menoelle® HAIR med reduces hair sebum
The drop in oestrogen during the menopause can cause women to experience the effects of the male sex hormone, testosterone. Testosterone results in greater sebum production and therefore greasier hair. An improper diet or wearing hats can favour this effect.
More than anything, hormonal hair loss can be made worse by excessive sebum production. Sebum blocks the hair follicles and results in a shortage of key nutrients, causing hair to fall out more quickly.
Our tip: menoelle® HAIR med is highly effective and gentle at removing excessive sebum.
Improvement in hair sebum: menoelle® HAIR med reduced hair sebum by 86% in one clinical study.
menoelle® and hair loss
The menoelle® HAIR med care set is specially designed for the needs of menopausal women and reduces hair loss just 3-6 weeks after regular use.
Thanks to a complex blend of the EstroG-100® extract, a special anti-hair loss formula and selected nourishing ingredients and nutrients, menoelle® HAIR med counteracts menopausal hair loss in an especially gentle way.
Studies have shown that the patented Estro-G100® extract also has a positive effect on skin and hair. Caffeine is clinically proven to inhibit the problematic DHT hormone and stimulate growth. Biotin strengthens the hair roots and works in synergy with panthenol to improve the hair structure. A nutrient-rich phyto-care complex with 22 selected herbal extracts from Korean medicine and a balanced amino acid complex provide care and the building blocks for healthy hair.
Diet with hair loss
Hair loss is a multi-faceted topic. What do you need to know about diet and hair care?
Make sure you follow a balanced, nutrient-rich diet. The necessary building blocks for healthy hair are mainly found in: High-quality protein, fish, citrus fruits, bell peppers, cabbage, wholewheat products, pulses and lentils, vegetable oils.
---
Drink plenty of liquids, preferably mineral water or unsweetened drinks such as herbal tea.
---
Stimulants such as alcohol and cigarettes favour hair loss and should therefore be avoided or reduced.
Hair care with hair loss
Be gentle with your hair: Use natural hair care products and brush your hair every day to stimulate circulation of the scalp.
---
Sometimes, the cause is simply excessive hair care. Blow-drying at too hot a setting, using a curling iron every day, frequent dyeing, bleaching or perms can all do your hair harm and result in it looking brittle or breaking more often.
---
Stay away from hair care products which contain silicones, oils or other rich ingredients. Silicones can get stuck on the scalp and impede hair growth. Greasing oils weigh the hair down and take away volume.
menoelle® HAIR med care set: counteract menopausal hair loss
With menoelle® HAIR med, we have developed a range of premium hair care products specially for women over 30 to naturally counteract thinning hair at an early stage.
This range of hair care products is based on the patented EstroG-100® extract, which is being successfully used for reducing menopause symptoms the world over.
Buy in the shop and save!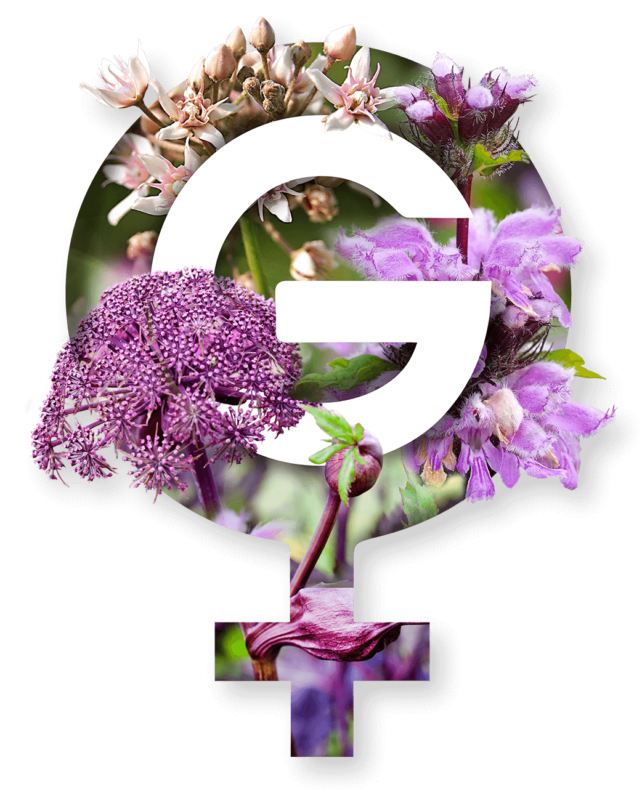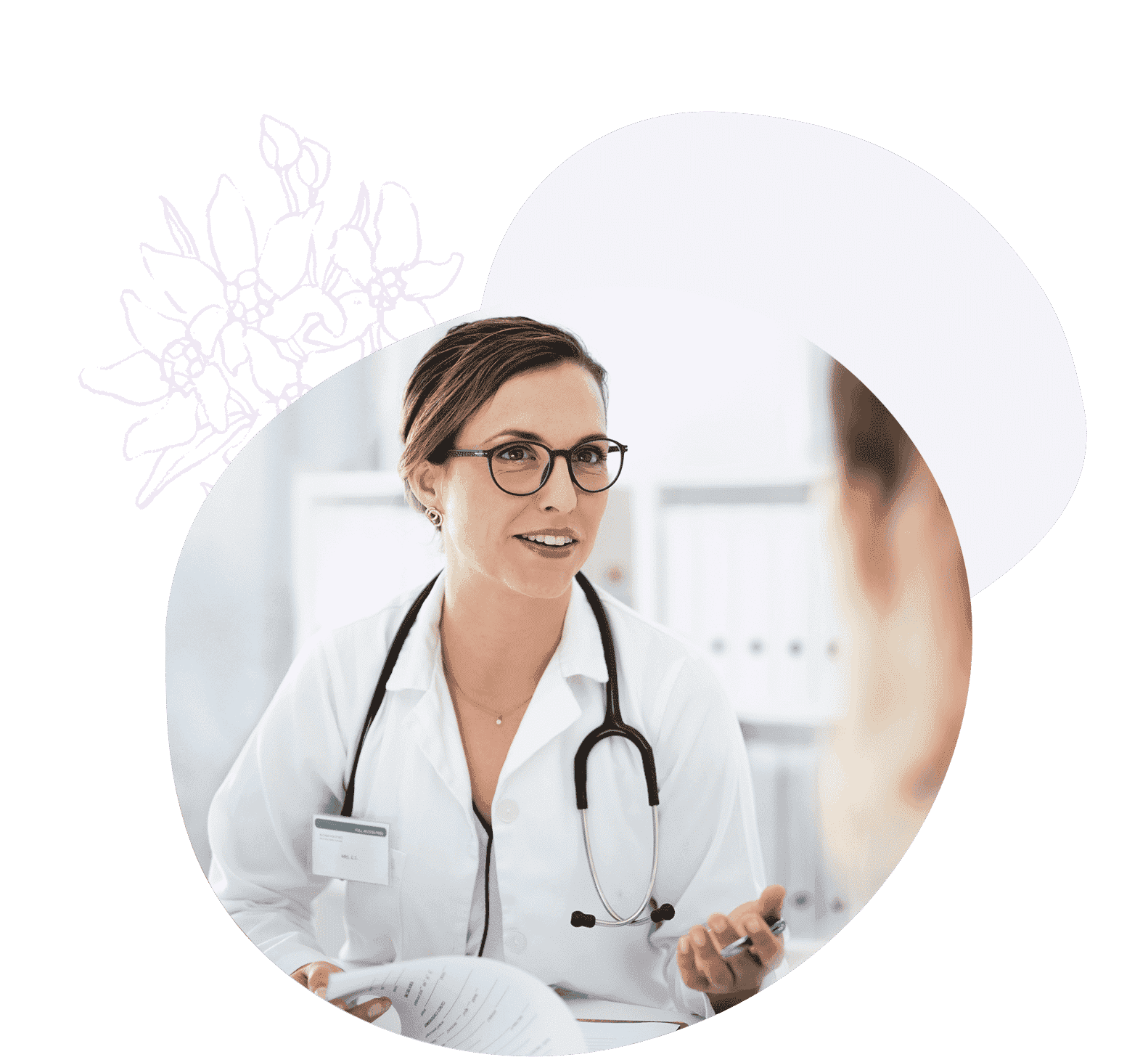 Cue: Visit the doctor
If you think you may be suffering from hair loss and there is no obvious reason such as stress or diet, a timely visit to your GP is advised so that you can clarify the cause and counteract it if necessary.
Along with an anamnesis on possible causes, a blood test can also provide information about your thyroid values, iron level or sex hormones. With suspected hair loss, it is a good idea to visit a dermatologist, who will be able to perform further tests on your hair condition with trichogram or trichoscan.
Once you know the cause, targeted countermeasures can be initiated, such as with an iron deficiency. Hair tonics containing hormones can also be considered in the case of hormonal hair loss.
Frequently asked questions about menopausal hair loss
In particular, dihydrotestosterone (DHT), a derivative of the male sex hormone testosterone, plays a role in hormonal hair loss during the menopause.
Like men, women have both female and male sex hormones in the body, only in different concentrations. When the dominant effect of oestrogen starts to fall during the menopause, in women with a corresponding genetic disposition, DHT can kill off the hair roots and trigger the kind of hair loss more commonly known in men.
In the case of diffuse hair loss, waning oestrogen levels, such as during pregnancy or when stopping the contraceptive pill, can disrupt hair growth and lead to hair loss.
Amino acids: Amino acids are the building blocks of protein and are used to make keratin, among other things. A sufficient intake of high-quality proteins is therefore necessary for healthy hair.
Iron: The trace element iron is responsible for transporting oxygen in the blood and an iron deficiency can cause hair loss due to the hair roots not having a sufficient supply.
Zinc: The trace element zinc is important for the formation of keratin and collagen and a zinc deficiency can lead to hair loss.
Vitamins: Above all, B vitamins and vitamin C & E play a role in hair growth.
The B vitamins B2 (riboflavin), B3 (niacin), B5 (panthenol or pantothenic acid), B7 (biotin) and folic acid help to keep the scalp healthy, stimulate the production of sebum glands and ensure healthy metabolism in the hair roots.
Vitamin C promotes scalp circulation and stimulates collagen production. Vitamin E makes the hair stronger, less brittle and prone to breakage while also protecting it against harmful environmental influences.
A one-sided diet can cause hair loss, so make sure to follow a balanced diet that includes foods which promote hair health.
Whether of animal or plant-based origin, a sufficient supply of high-quality proteins is essential for us as human beings.
When it comes to hair, meat, poultry, fish or pulses and lentils are mainly recommended.
By the way: Meat is our best natural source of iron. We are able to process iron from animal-based foods very well, and it also contains zinc and a range of B vitamins.
Good sources of B vitamins and zinc are in particular milk and dairy products, eggs, potatoes, pulses, lentils and nuts. Cocoa powder and beer yeast also contain quite a lot of zinc.
Vitamin C is mainly found in citrus fruits, berries, bell peppers and cabbage varieties, spinach or lamb's lettuce.
Vegetable oils such as wheat germ, sunflower or rapeseed oil are rich in vitamin E.
Oat flakes: The nutrients found in oats are ideal for hair growth. Oat flakes are rich in protein, zinc, iron and B vitamins (mainly biotin), which ensure strong hair and protect against hair loss. You can incorporate oak flakes easily into your daily diet as breakfast cereals or with oat milk.
Nettles: Nettles are known for promoting circulation with hair loss and hair problems. They are rich in various minerals such as iron, potassium, calcium and B vitamins, along with the vitamins C, D and E.
Nettle extract stimulates scalp circulation, regenerates the hair roots and makes the hair less prone to breakage, stronger and even provides more volume.
To make a nettle hair tonic, simply pour a quarter of a litre of boiling water over a handful of nettle leaves. Allow to soak for 10 minutes, pour through a sieve and leave to cool. Massage some of the cooled mixture into the scalp daily. After allowing to work for around 10 minutes, rinse out or simply leave in the hair.
Apple cider vinegar: Apple cider vinegar is a natural household remedy that improves the resistance of the hair, protects against hair breakage and improves hair growth.
To avail of its benefits, mix apple cider vinegar with lukewarm water in a ratio of 1:5 and put the mixture in your hair after washing as normal. Leave to take effect for 5 to 10 minutes and then rinse out. The slight vinegar smell will go away after a few hours.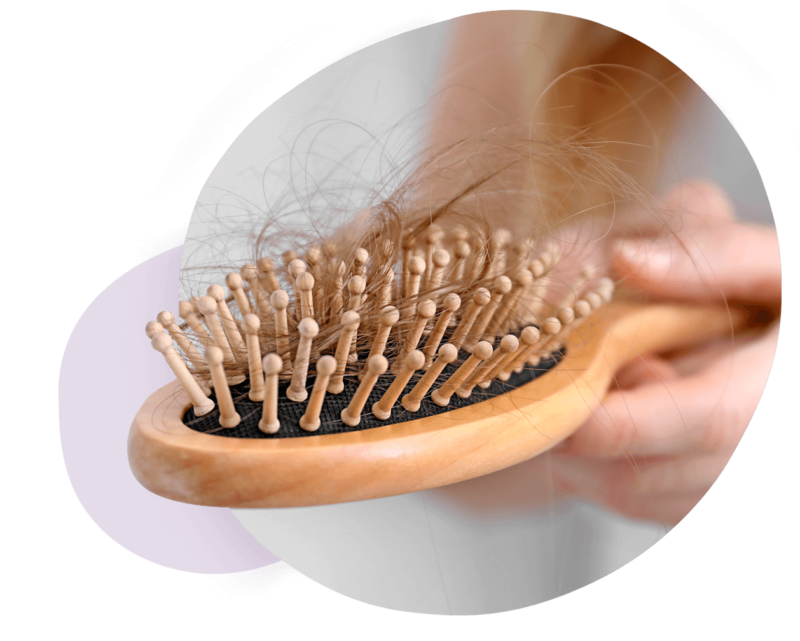 menoelle®-menopause test
Am I already in the menopause or not yet?
Simply answer the 20 short questions in our menoelle® menopause test to know more straight away.
To the test