THE MENOELLE® HAIR MED CARE LINE
menoelle® HAIR med – Counteract menopausal hair loss
Our hair is much more than just a part of our natural looks – it is also an expression of who we are and of our vitality and sensuality. However, some women can find that their hair is becoming thinner and less full and dense during menopause because of the drop in oestrogen. This can become a source of stress and have an impact on self-confidence. If you are experiencing just that, you're not alone. Hormonal hair loss affects a high percentage of women – and that's not just during menopause. Women's hormone levels actually start changing as early as the age of 30, and as of that point, these changes can also give rise to increased hair loss.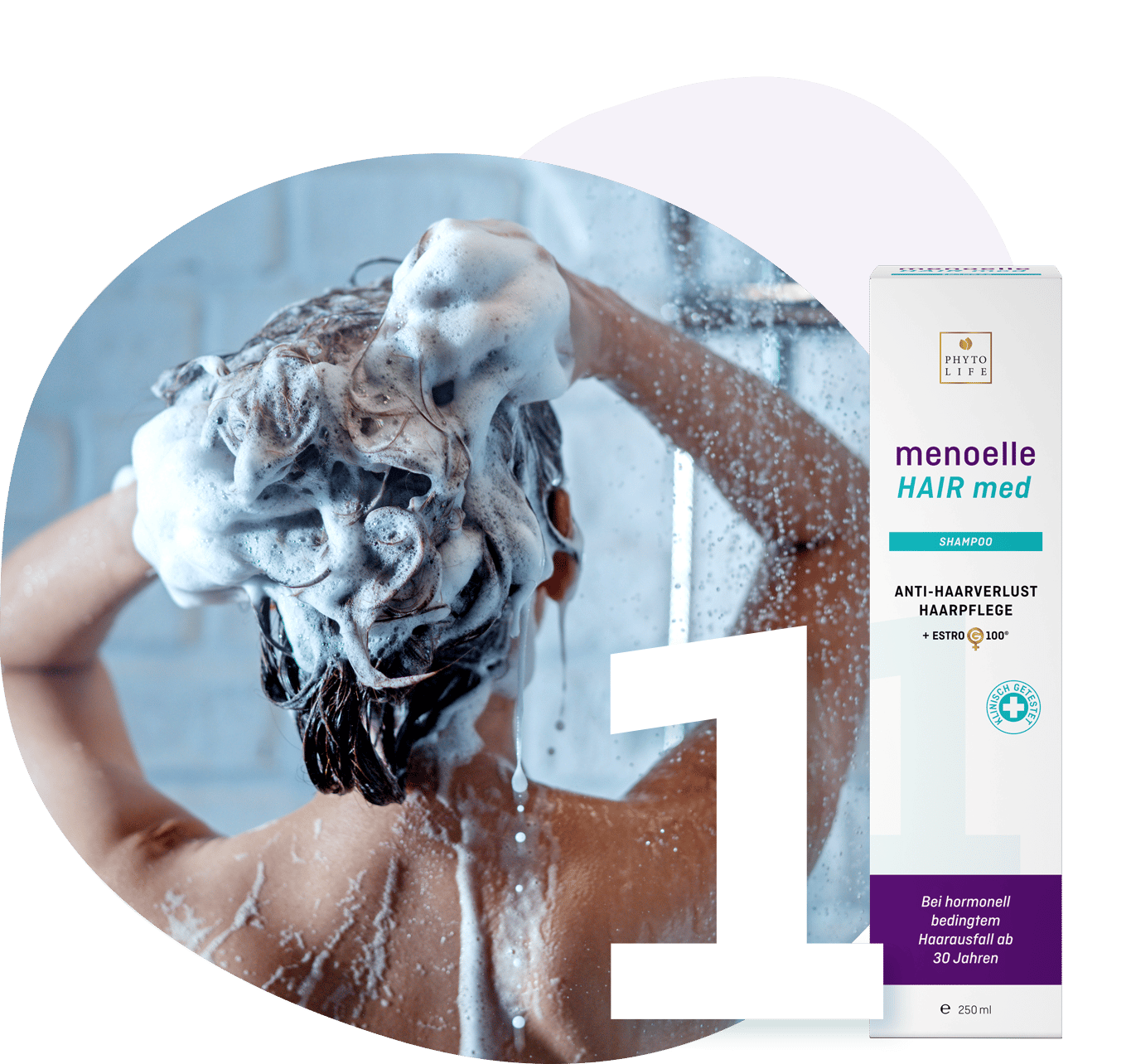 Your premium shampoo for combating hormonal hair loss
Cleanses hair and scalp very thoroughly // Supports sebum production for shiny, silky hair // Reduces hair loss in as little as 6 weeks of regular use.
menoelle® HAIR med Shampoo is formulated to thoroughly clean hair and contains select substances that protect the hair, strengthen the scalp and hair tissue, and have been proven to significantly reduce hormonal hair loss when used regularly. The action of thoroughly cleaning your hair is a means of preparing it for the application of our powerful menoelle® HAIR med anti-hair loss conditioner and revitalising tonic.
Conditioner – Intensive hair care with an instant effect
Intensive care for damaged hair for use during the menopause // Improved hair shine even after the first use // Makes rough and brittle hair soft and strengthens the scalp.
Say goodbye to dry and brittle hair: Our menoelle® HAIR med Conditioner soothes stressed hair and gives it a beautiful shine, leaving it silky soft. This powerful conditioner will make your hair noticeably softer even after just a single use. At the same time, its highly effective ingredients are deeply nourishing for the scalp. This makes our menoelle® HAIR med Conditioner an essential part of our high-quality anti-hair loss and care product range.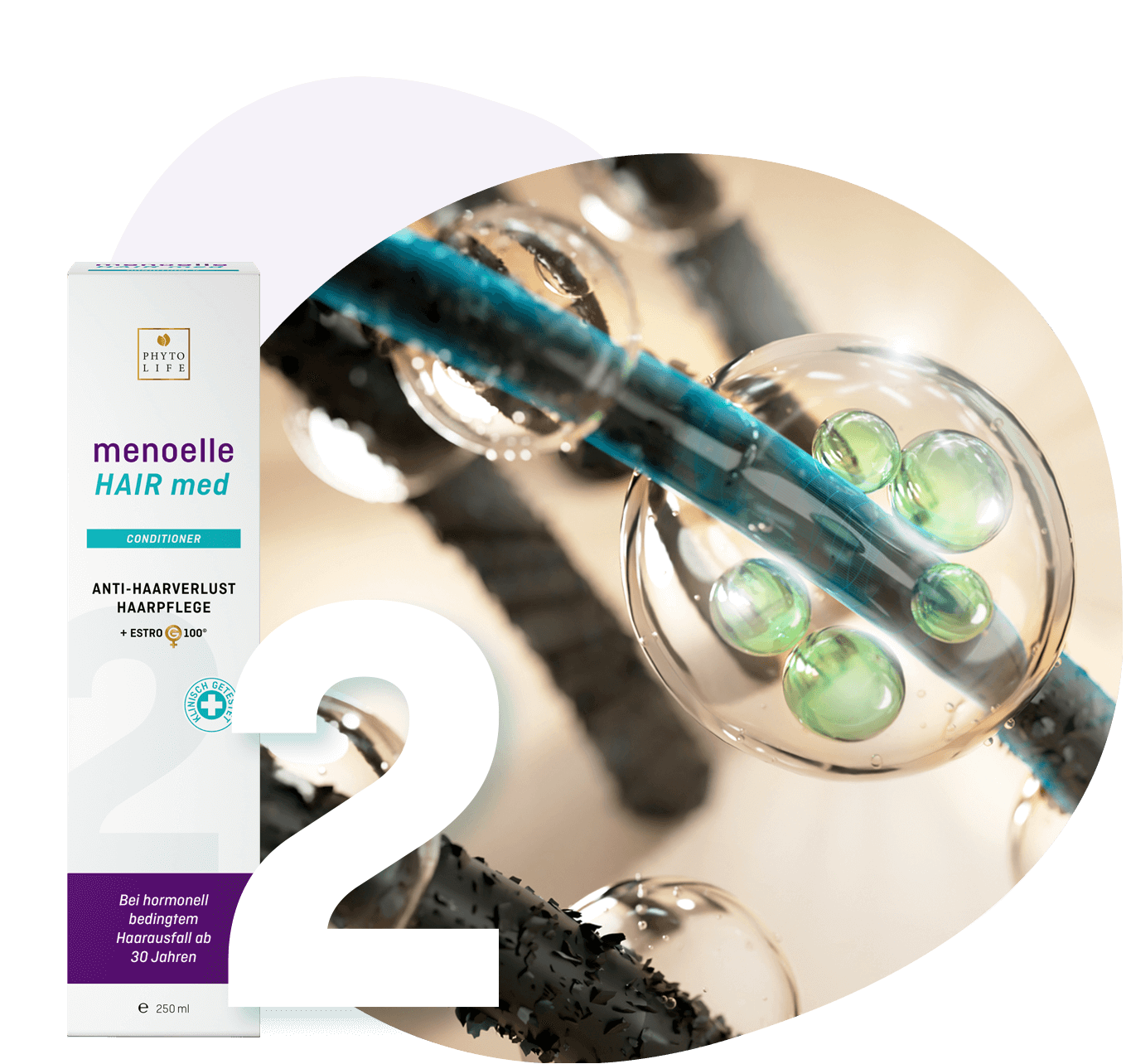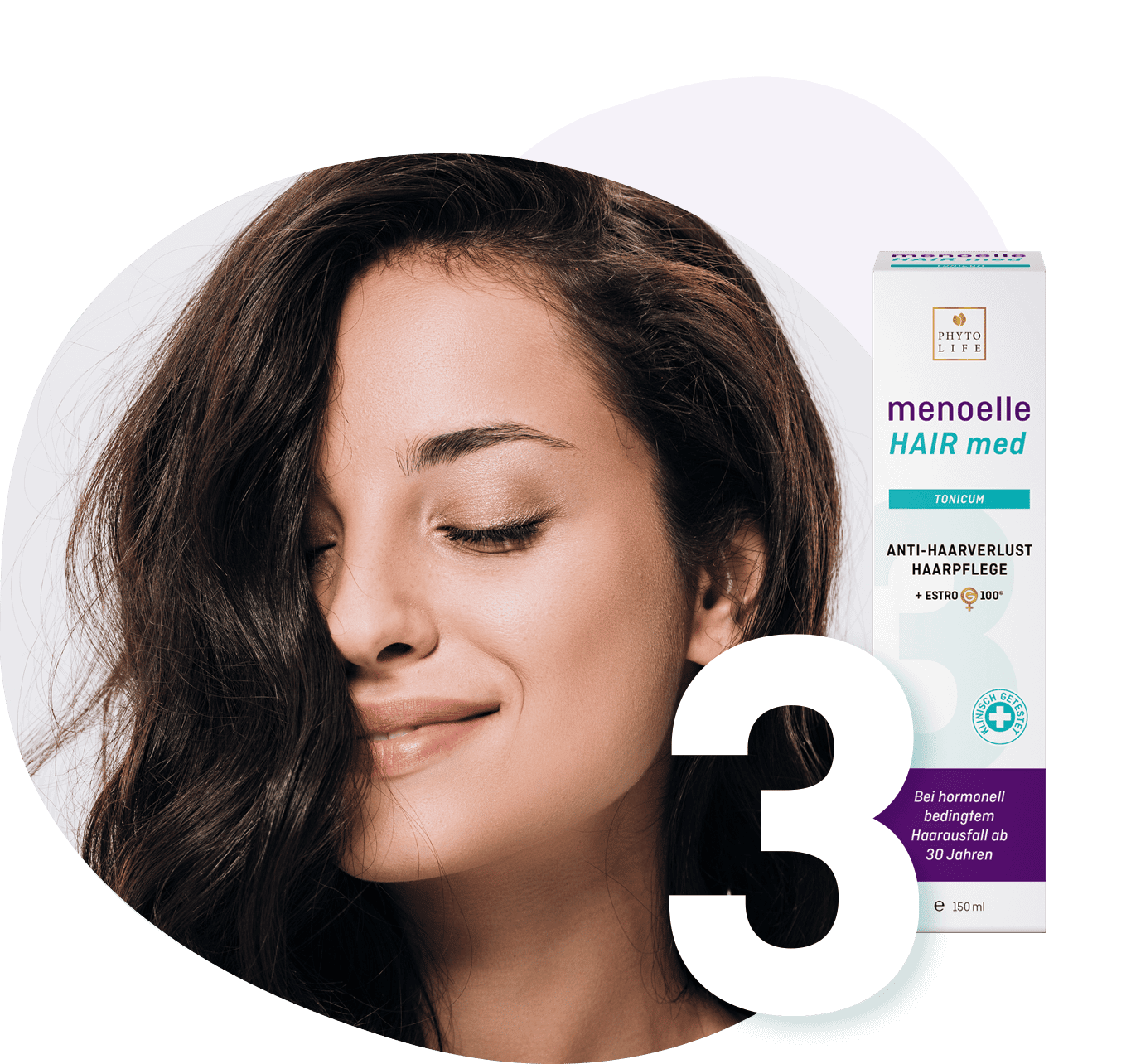 Tonic – The daily wellness treatment for your scalp
Soothes, cools and revitalises the scalp in a highly nourishing way // Promotes healthy and elastic scalp tissue for beautiful, full hair // Extremely potent thanks to consistently nourishing the scalp.
A healthy scalp is essential for beautiful and strong hair. This is why menoelle® HAIR med Tonic has been especially formulated to nourish and support the scalp. Gently massaged into the scalp after every hair wash, it keeps the scalp feeling invigorated throughout the day. At the same time, it soothes stressed scalp tissue and keeps it supple and toned. Thanks to not being washed out, the tonic is able to consistently unfold its therapeutic effects over the course of the night or day and hence counteract menopausal hair loss in a gentle way.
WHAT YOU NEED TO KNOW
Anti-hair loss hair care – What's behind the menoelle® HAIR med care products
menoelle® HAIR med is composed of specially selected natural ingredients that interact synergistically and effectively reduce menopausal hair loss. It is based on the patented EstroG-100® extract, which is being successfully used for reducing menopause symptoms the world over. The anti-hair loss formula containing caffeine, biotin and panthenol, along with the phyto-care complex with 22 selected plant extracts from Korean medicine and an essential amino acid booster for healthy hair.
EstroG-100® – Natural balance without any hormones
The internationally renowned and clinically tested medicinal herb extract EstroG-100® is an ideal solution for menopausal women looking for a holistic approach to their menopausal symptoms. Of course, without any hormones, purely herbal and very well tolerated.
EstroG-100® also has a positive effect on skin and hair, as proven by studies. Cynanchum Wilfordii in particular, one of the 3 medicinal herbs in EstroG-100®, is treasured in Korean medicine for treating hair loss and age-related changes in the hair.
More about EstroG-100®
The anti-hair loss formula of menoelle® HAIR med products
In addition to the essential, patented EstroG-100® extract, menoelle® HAIR med offers an additional effect through caffeine, biotin and panthenol to provide women with maximum support during the menopause.
Caffeine is scientifically proven to have three effects on hair: Caffeine reduces the effect of the DHT hormone, which plays a key role in hormone-related hair loss, while stimulating hair growth and ensuring stronger and healthier hair.
Biotin strengthens the hair roots and works in synergy with panthenol to improve the hair structure, making it silkier, shinier, stronger and more resistant.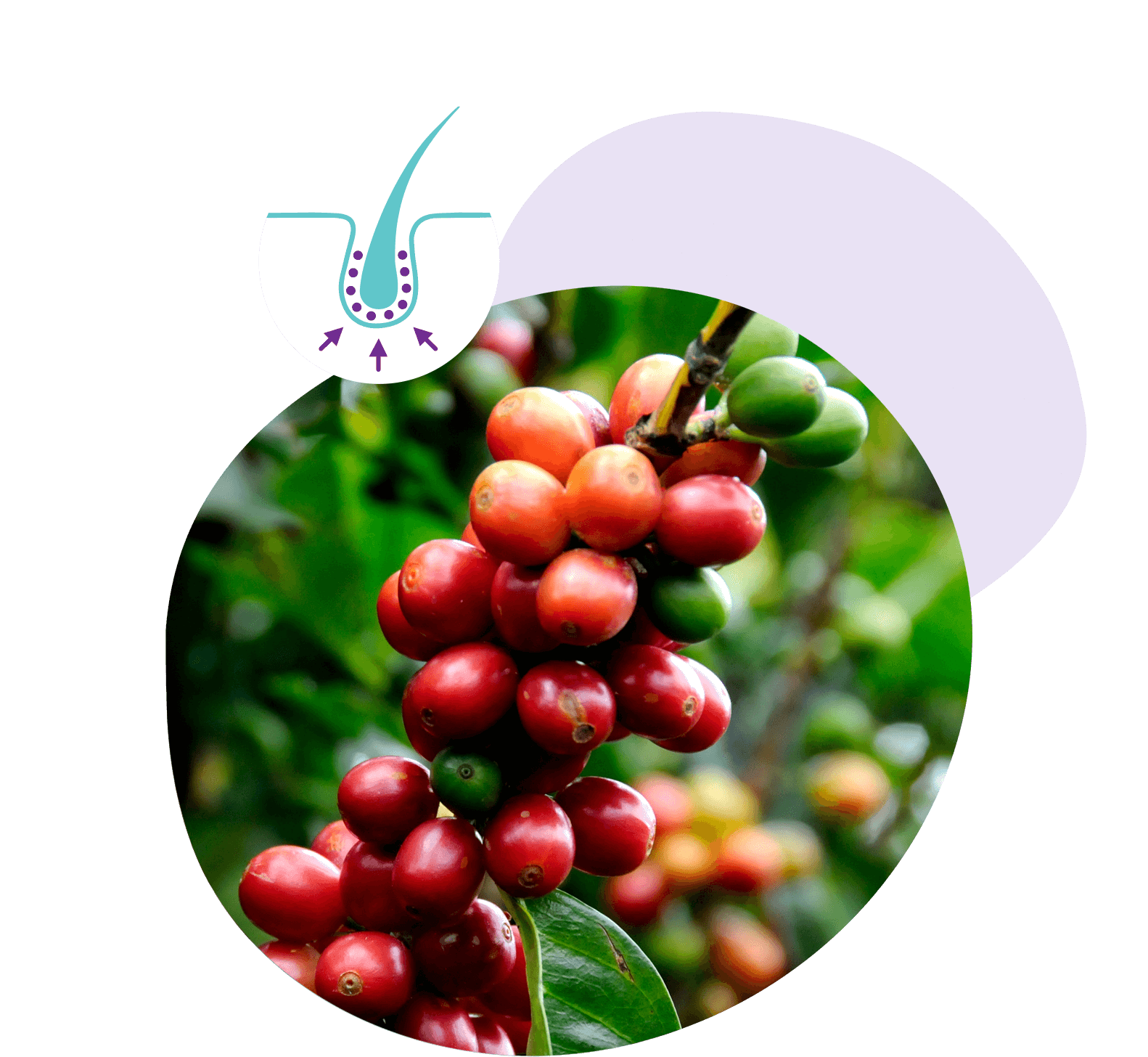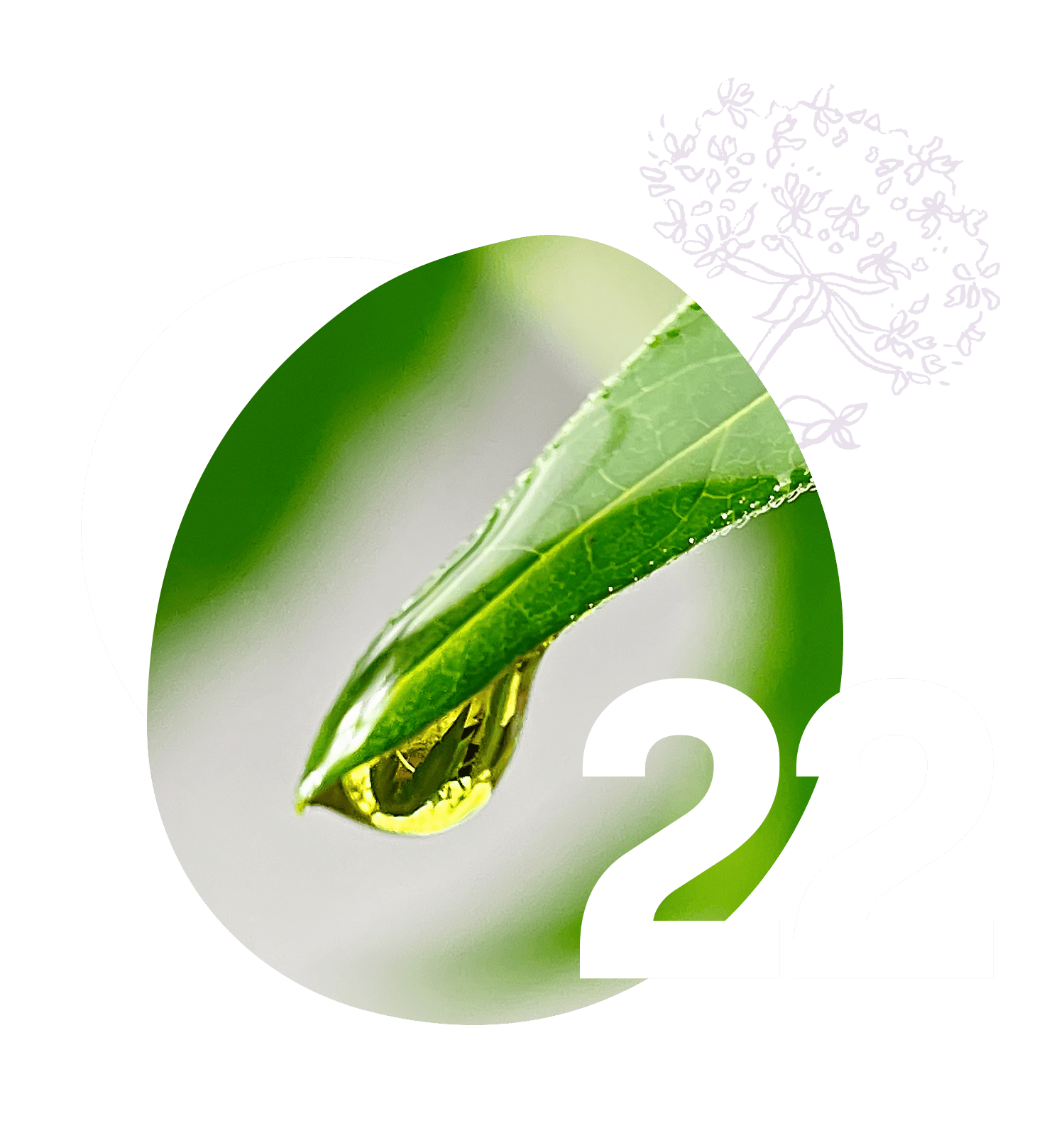 The phyto-care complex of menoelle® HAIR med products
To provide your hair with the best natural care, menoelle® HAIR med contains a nutrient-rich phyto-care complex with 22 selected herbal extracts from Korean medicine, and a balanced amino acid complex as the building blocks for healthy hair.
menoelle® HAIR med Shampoo and Conditioner also contain keratin, collagen and silk for a healthy hair structure and shiny hair that feels good.
Tiger grass extract in menoelle® HAIR med Tonic soothes sensitive and irritated scalps.
Clinically proven effectiveness against hormone-related hair loss
Clinical tests performed with menoelle® HAIR med care products have shown that daily application can significantly reduce hair loss in as little as 3 to 6 weeks.
Ongoing use of this range of products is essential for a lasting reduction of menopausal hair loss, as revealed in the clinical tests. According to the studies, the products did not have any detrimental effects on the skin and did not generate any side effects.
Reference: Clinical test for the improvement of the number of hair drop after using the antihair loss shampoo and anti-hair loss Scalp tonic. Test Institution: P&K Skin Research Center. Research Number: PNK-22324-HM1R. Period: 24 March to 06 May 2022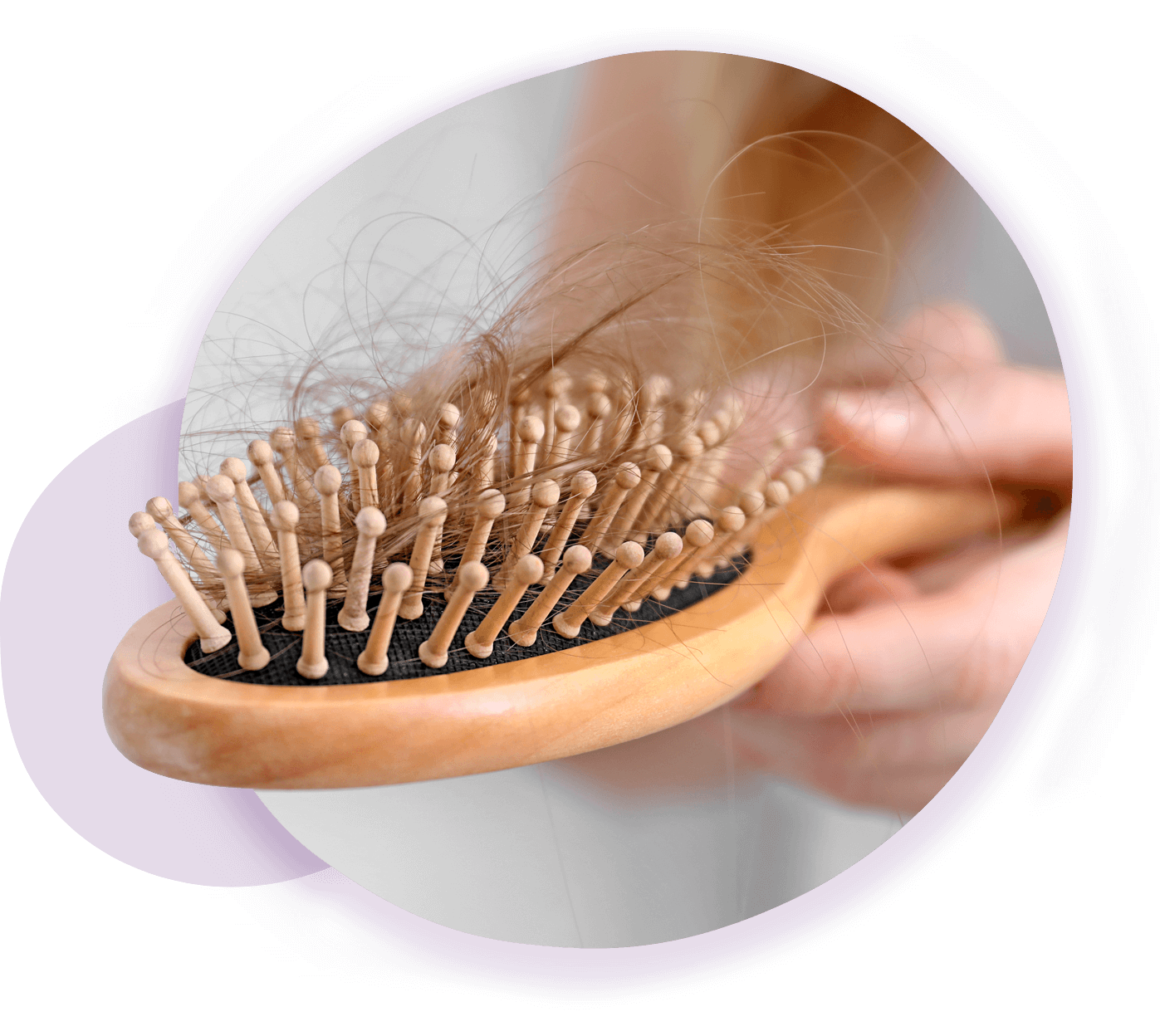 Improvement in hair shine: In den Wechseljahren werden die Haare oft trocken und wirken dadurch spröder und glanzloser. Die Anwendung der menoelle® HAIR med Pflegeserie verbessert den Haarglanz um 21 %.
Die sorgfältig aufeinander abgestimmten, hochwertigen Inhaltsstoffe der menoelle® HAIR med Pflegeserie nähren Ihre Haare und sorgen für den gewünschten Glossing-Effekt.
Improvement in keratin on the scalp: Mit den Wechseljahren werden die Haare häufig auch kraftloser, brüchiger und dünner.
Das Haar besteht zu 90 % aus Keratin. Die Eiweißbausteine machen das Haar kräftig, elastisch, geschmeidig: also letztlich gesund und schön. menoelle® HAIR med enthält einen ausgesuchten Komplex aus Aminosäuren, die für die Bildung von Keratin notwendig sind und die Haare wieder stärken.
Improvement in scalp sebum: Der positive Effekt der Östrogene wird in den Wechseljahren immer geringer, dann produziert die Kopfhaut mehr Talg und lässt Haare fettiger und strähniger wirken.
menoelle® HAIR med reduziert Haartalg um 86 % und schafft damit Abhilfe. Der speziell dafür komponierte Phytokomplex in menoelle® HAIR med reinigt Ihre Haare gründlich und dennoch sanft und schonend.
menoelle®-menopause test
Am I already in the menopause or not yet?
Simply answer the 20 short questions in our menoelle® menopause test to know more straight away.
To the test
menoelle® HAIR med – Directions for use
You should use menoelle® HAIR med every day and especially regularly in order to achieve best results.
The menoelle® HAIR med care line is well tolerated and can be used long term.
The menoelle® HAIR med hair care line needs to be used for some time until it achieves its full effect. In some cases, this may happen more quickly, while in others, it can take slightly longer. Experiences from studies show that you should expect around 3–6 weeks.
Make sure to use the product regularly as described in the recommendation.
menoelle® HAIR med is not suitable for children under the age of the 3.
menoelle® HAIR med is designed to combat hair loss and strengthens the hair root, not the growth of new hair.