NATURAL
EstroG-100® – Natural balance without any hormones
EstroG-100® significantly improves 12 concomitant symptoms of menopause, as well as mineral bone density. It does not have any oestrogenic or phytooestrogenic effect, making it very easy to tolerate. The holistic effect of EstroG-100® has been convincing consumers worldwide and long term since its market launch in 2010. Millions of women are now placing their trust in the EstroG-100® extract for menopausal symptoms.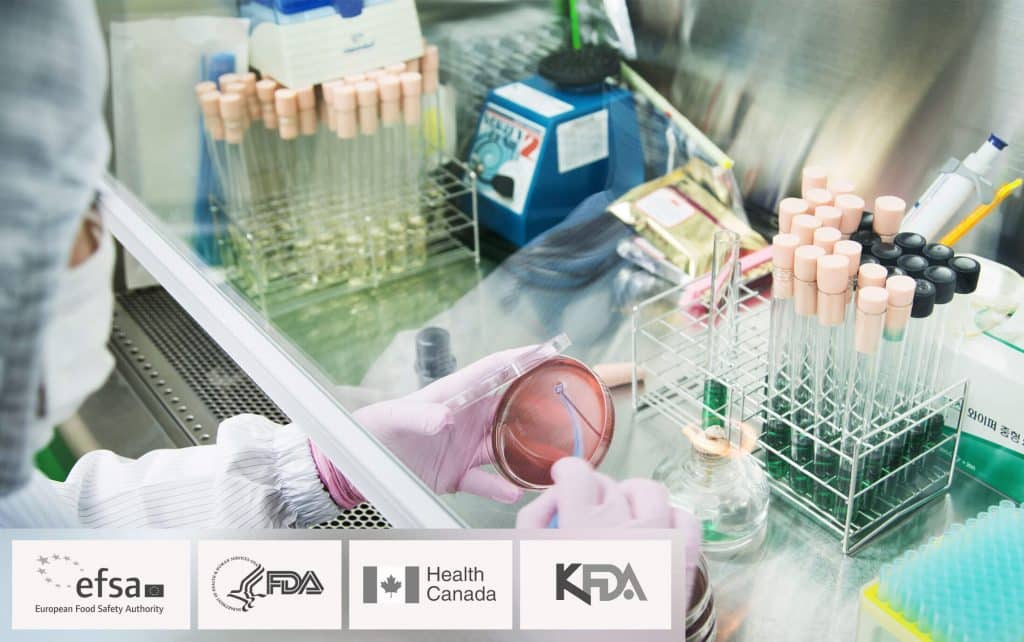 EstroG-100® has already won a number of international prizes and is probably one of the most successful herbal extracts to come from South Korea. The most significant awards are: Best Botanical Award 2014 (USA), World-Class Product Award 2011 (South Korea), Gold Medal Inventions Geneva 2008 (Switzerland).
EstroG-100® has already been sold in the USA, Canada and South Korea for many years – already over 10 million times on account of its good tolerability. In 2017, EstroG-100® was approved as a Novel Food by the EFSA (European Food and Safety Authority) and is now finally also permitted to be sold in Europe.
Effect of EstroG-100®
EstroG-100® is one of the best-known and most popular treatment options in the world for women going through the menopause and has been approved by key organisations. The efficacy and safety of the EstroG-100® active ingredient have been proven in three prospective, randomised, double-blind and placebo-controlled studies: No oestrogenic or phytooestrogenic effect, no side effects, no effects on body mass index.
The development of EstroG-100® focused on the increasing desire of many women with menopausal complaints to take a herbal, hormone-free remedy that is effective and well tolerated.
For this purpose, numerous medicinal herbs proven in Korean folk medicine to relieve women's complaints were intensively examined and the combination of the root extracts of the three herbs Cynanchum Wilfordii, Phlomis umbrosa and Angelica gigas chosen as they combine a holistic effect with very good tolerability.
Very good tolerability
The patented EstroG-100® herbal extract is very well tolerated. None of the clinical studies showed side effects and even in previous practical use in more than one million women, no undesirable effects were known.
At the same time, there was no statistically significant difference in body weight/BMI, blood pressure and laboratory values such as blood sugar or lipids, including values for serum oestradiol or follicle stimulating hormone (FSH) compared to the baseline in all clinical studies.
The 3 medicinal herbs have a long-standing tradition in Asian folk medicine and are listed in the Korean Standard Food Index as "Safe Food Ingredients".
No direct oestrogenic or oestrogen-influencing effect
EstroG-100® has no direct oestrogenic effect on the oestrogen receptors and is not a plant-based hormone replacement therapy like those known from so-called phytooestrogens.
In the clinical studies, the herbal extract did not show any impact on oestrogen and FSH levels and in further investigations, did not show any binding affinity to oestrogen receptors and no stimulating effects on the growth of oestrogen-sensitive tissues such as female breast cells and the endometrium.
Changes to menstrual periods
100% recommendations
Thank you thank you thank you!
I didn't know what to do anymore and then along came menoelle. Thank you to dm for selling such a great product!
Highly recommended!!!
I've been taking the capsules for a year now and I am fully satisfied. Since then, I've had next to no hot flushes… it's great!!
The best product for the menopause
I've been taking menoelle for almost 1 year and I won't be changing that. menoelle works really well – all my unpleasant side effects are gone. It's also great to finally have a product that doesn't contain any titanium dioxide. I take menoelle every day – sometimes even 3 or 4 tablets.
Doctor's recommendation
My doctor prescribed me with menoelle and I'm delighted. I first bought the product at the pharmacy and then came across it in dm. The effect is simply phenomenal – I could barely cope with hot flushes and mood swings and now they've levelled out again.
Can only recommend!!!!
Great product, everything I wanted. I've become calmer, I'm not experiencing as many hot flushes, occasional excessive sweating at night, I feel more relaxed. Overall, the symptoms have become much more tolerable. I recommend it to any women who don't want to take hormones. A great preparation.
Highly recommended, it helped me.
The product was everything I expected. I was having hot flushes all day and sweating excessively at night. After taking it for a week, I feel a lot better… I would definitely buy it again!
Was a great help!!
Thank you thank you thank you! Since menoelle, I've finally got my hot flushes under control. I'm so happy, would absolutely recommend.
Lifesaver
I will be forever glad that I discovered menoelle! Thank you a thousand times! I've finally found a hormone-free product that helps. I can wholeheartedly recommend menoelle. Thank you also to the team for responding so quickly to my questions!
menoelle®-menopause test
Am I already in the menopause or not yet?
Simply answer the 20 short questions in our menoelle® menopause test to know more straight away.
To the test